We live in an era where content is continuously created across the globe in various forms, such as audio, visual, and textual, using a wide range of advanced features and technologies available. However, the textual content is something that you would find in almost every media like in the form of audio or video titles, captions, hashtags and full-fledged articles. Articles or essays have always been a preferred medium of learning more about anything. The advent of blogging sites has paved the way for creating and publishing articles across the globe.
Why blogs?
At individual as well as corporate level, blogs have been a medium to express views and spread knowledge related to a field to a vast population within a few seconds. The power of blogs is evident from the present statistics that says marketers who engage in blogging are 13 times more closer to positive ROI. However, to tackle competition and gain more traffic, blog writing has been enhanced by embedding various media elements for engagement. As a result, these elements tend to drive traffic depicted by the statistics that state 54% of the successful blog posts in the digital world contain at least one media item like image, video, or audio. Also, on the audience side, 51% of people feel the need to connect with and better understand others through video content; emphasizing the power of video content irrespective of its nature. Websites can include videos in various manners, such as videos relevant to the blog topic, videos in the 'about us' section, etc.
If that's the power of videos on websites, then how about interactive videos? Interactive videos involve adding engaging, interactive elements to videos using hotspots, branching, call to action, etc. Wish to know more about the interactive videos? click here.
A novel way to merchandise
The digital media have brought in a new trend of influencers, where they have been becoming brands themselves. Influencers have been adopting various merchandising techniques to promote products of their own as well as outsourced ones to raise revenue. By embedding interactivity in videos in the blogs or on websites using hotspots, branching, the products can be merchandised through one point. Thus, interactivity in videos would not only increase viewer engagement but also enable advertising through a single medium.
Well interactivity, clickable hotspots would all seem like a very technical and sophisticated task. However, with OneDash, it's just these four steps to embed an interactive video on your WordPress website:
1) After creating an amazing interactive video through your OneDash account, click on Publish in the top right corner.
2) Copy the WordPress URL or shortcode for the video from the dashboard.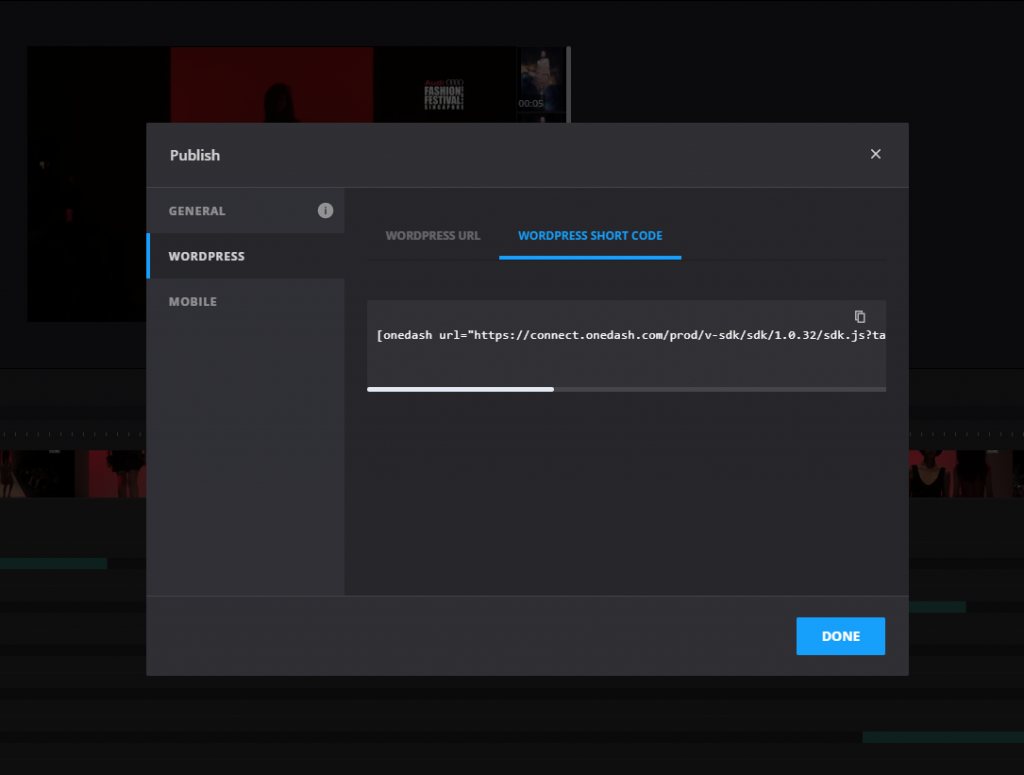 3) On your website backend, for URL, add video from the common block category, and for shortcode, add a shortcode from the widgets category.
4) Paste the video URL or shortcode copied from the OneDash dashboard and view the engaging video empower your website.
Sources:
www.hubspot.com
www.thinkwithgoogle.com
www.quoracreative.com
By 
Manasa Chandran (Content Executive)